---
All imaginable water sports can be practised on the rivers and lakes of our department. From canoe and kayak to swimming and water ski, everything is possible. Also see the theme walk water or aquarando..

6 Golf
---
There is a golf court (9 holes) at 12 kms from Au Portaou and 35 km from La Combette. There are also golf courts at the border of the Naussac Lake and in La Canourgue.
Golfs Lozère : http://fr.federal-hotel.com/golfs-lozere-48.htm



7 Climbing and speleology
---
Many sites are available in the Lozère for practising these sports: 950 courses at 18 different places. For people wanting to practise speleology we can help with bookings for guided trips and training stages accompanied by experienced mountain guides.
For more information: www.lozere-tourisme.com.

8 Mushrooms
---
The best periods for searching for mushrooms are spring and especially autumn. The periods depend on the whims of Mother Nature.
Many edible varieties can be found such as: chanterelles, cep and many others. Harvesting cep and tasting them at dinner is very well possible at La Combette..

9 Hang gliding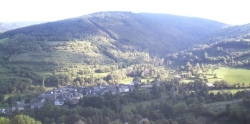 ---
Seven starting places have been readied for this sport, more information is available at : 00 33 (0)4 66 45 15 46 or www.lozere-tourisme.com

10 Cycling
---
You can enjoy cycling in the Lozère in many ways. Mountain biking is possible on most signposted hiking routes, but you can also make cycling tours with suitable bikes.
If you do not enjoy going uphill, there are many possibilities for descending only; routes vary from 30 to 60 km. We can arrange transport to and from the starting points as well as cater for lunch picnic.

11 Thermal station and "fitness" new style
---
There is a thermal station in Bagnols les Bains (at 9 km from La Combette), which is specialised in throat, nose and ear problems and in rheumatism. This station offers various possibilities, ranging from advanced fitness till medical cures. For more information you can call: 00 33 (0)4 66 47 60 02. If wished we can assist you here also. Website: ; http://www.bagnols-les-bains.com

For total relaxation you can try an original product: a combination of walking, a thermal cure and a cocktail of eastern and western gymnastics. website : www.lozair.net

12 Auto & motor sports
---

Many circuits have been prepared for drivers that offer you the best our region has to show. There are also circuits for 4-wheel drive( 4x4 "quatquatres" in French) website: 4x4lozere.com

13 Winter sports
---
Alpine and Nordic ski
rental of snow-
equipment : Le Bleymard Station (Col de Finiels)
www.lemontlozere.com
at 8 km from La Combette.
Circuits for hikes on snowshoes at 5 km from La Combette.
---