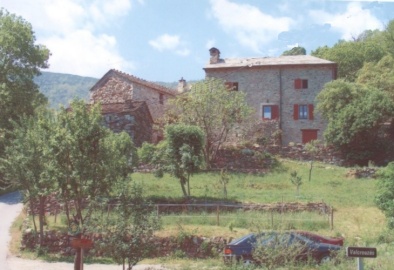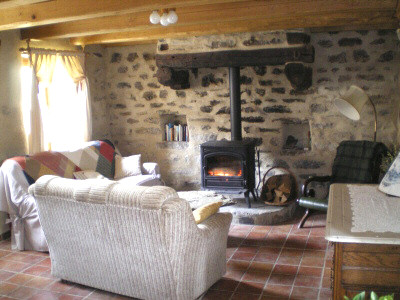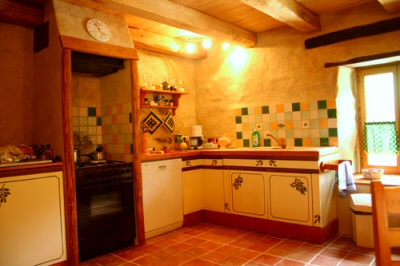 Week price : 525 Euros
plus touristtax of 0,50 centimes per person per day, off 13 years. Water, gas, electricity and heating wood (in winter) are included in the price.
Washing machine at your disposal for 3 € including soap.

Reservations can be taken at your convience (ex. From Monday to Monday and not from Saturday to Saturday).The sheets, tablecloths, wiping-up-towels,etc.. are supplied and will be changed every week.

Animals not aloud. Smokers are requested not to smoke in the lodge or in the bedrooms.
You are supposed to clean the cottage before departure,
but might ask us to do it for 30 €

400 € per week in March 2012

Questions or booking : au-portaou@wanadoo.fr
Caracteristic holiday cottage

of 80m2 is situated in the oldest part of the house (1765) Two levels entirely equipped for 4-6 people, with an independant entrance and a terrace with garden furniture in th shade of a grape covered treillis.

Ground level :
spacious diningroom and a living with open fire place, equiped kitchen with dish-washer, gaz cooker, electric oven, fridgidaire, toilet with little sink.

Upstairs :
- Bedroom Ver à soie (Silk worm) for 2 people,
with a double bed and private bathroom.
Possibility to place à baby bed
- Bedroom Hortensia (Hydrangea) for 3 people,
with 1 double bed and 1 single bed. Ver à soie Hortensia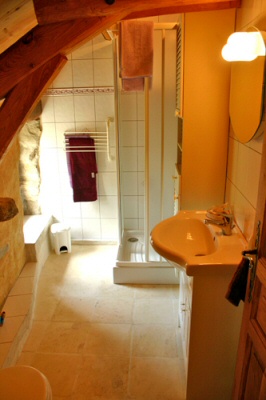 Bathroom Hortensia