Bed and breakfast and other meals in the Cevennes
Open 1 Febr. till 15 Nov.
and in between Cristmas and Newyear

Patricia Tholet & Hans - Dieter Röcher
welcomes you "Au Portaou" in Valcrouzès
GPS : North 44,41527
- East 3,94048

48800 Saint-André Capcèze
France
Phone 00 33
(0)4 66 46 20 10
e-mail : au-portaou@wanadoo.fr
websites : cevennes-mont-lozere.com
www. au-portaou.com






The guestrooms
Au Portaou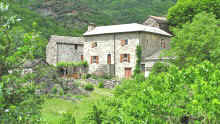 Our guestrooms have a personal touch,
expressed by their decoration
and their name.
They have central heating
and the possibility to adjust
a children's bed.




La Bergerie

Guestroom in a very ancient independent house with 2 levels of 17m2.

Groondfloor : small kitchinette, living with woodstove and bathroom with shower.

First floor: bedroom with double bed of 1,60 x 2m with antique romantic furniture.
This room can be used for a small cottage for 2 people or for BB.





La Clèda

La Clèda has two levels, it is situated in an old "clède" (a little natural stone house, especially built to dry chestnuts formerly).
La Clèda is equipped with a double bed in the mezzanine.
The private bathroom has a large shower, a little sink and private toilet.
A true love nest...

Ver à soie

Former Silk worm breeding room

Vers à soie is a bedroom with private bathroom in a room where before silk worms were cultivated. Some old photos showing this prosperous activity decorate the walls.
A comfortable double bed is waiting for you in this bedroom mainly decorated in different beautifull greens.
(there is a possibility to add a baby bed)



Hortensia
Hydrangea room is a bedroom, with a private bathroom,for 3 people. The decoration of Hydrangeas are presented in different styles and colours (lila, mauve, purple)..



© 2002 - 2016 www.cevennes-mont-lozere.com | mentions légales | Présent sur Causses Cévennes